October 2017
It's back! New TVR Griffith revealed.

Reborn British sports car marque TVR has unveiled its all-new Griffith sports car at the 2017 Goodwood Revival the first time a new car has been unveiled at the historic motorsport event in West Sussex.

TVR Take Two: the facts
It's been nearly a decade since the Blackpool-based tearaways ceased building their outrageous coupes and roadsters, but a new ownership consortium has now confirmed that it will re-start production in late 2017. In a wide-ranging announcement Les Edgar, who bought the rump of the company from Russian Nikolai Smolenski in 2013, revealed:
Griffith name revives a celebrated TVR nameplate
Engineered in conjunction with Gordon Murray Design
Two-seater front-engine coupe, rear-wheel drive
Naturally aspirated 5.0-litre Ford V8 tuned by Cosworth
Manual gearbox
200mph+ top speed
Less than four seconds 0-60mph
Ground-effect aerodynamics
Weighs 1250kg, 50:50 weight distribution
400bhp-per-tonne power-to-weight ratio
Racing versions planned
Priced from £90,000
Production begins in Wales in late 2018

Who is behind the TVR rebirth?
The new management team is led by Les Edgar, a life-long TVR fan who made his money in the computer gaming industry. He's close to the enthusiastic owners' community, who have believed for some time that there's a gap in the market for affordable, characterful sports cars to nip at the heels of Porsche and co.

Can they pull it off?
That's the $64 million question. Enthusiasts would suggest there is indeed a place in the market for something simpler, purer, more brutal than the polish of Porsches or the Germanic heft of modern-day M3s and AMGs.

But the economic realities of realising this dream are harsh and the path to independent manufacturing is littered with failure, not least the last-generation TVR concern. However, the new business has appointed some of the brightest minds in the business, and the low-volume specialist build process which is developed by Gordon Murray could make or break their chances.
It'll be fascinating to see what happens next.


---

The in the UK based world's leading classic car dealer, restorer, race preparer for historic cars especially Aston Martin, Jaguar, Ferrari, Porsche & other marques, has made its first major step towards international expansion, they joined forces with US based Morris & Welford to open a prestigious new classic car dealership in Newport Beach, California.


In a further development, JD has also launched a custom designed five speed gearbox as a direct replacement for the four speed unit originally fitted in XK engine Jaguars, XK series, E-type and sedans.

Bonhams 25th annual Goodwood Festival of Speed auction results were stunning a 1962 Mercedes Benz 300SL roadster at 897,500 pound sterling, 1973 Porsche Carrera RS 2.7 lightweight at 830,000 pound sterling this is just a small selection of the auction results but the most surprising was by far the 1979 MG Midget 1500 that had covered only 35 miles since leaving the factory, it eventually was hammered down for an astonishing 28,750 pound sterling.
---
A Racing uncertainty
Silverstone had no option but to trigger the break clause in its British Grand Prix hosting contract in order to secure the track's future. The losses over the last two years were staggering 7.7 million pound sterling and estimated shortfall from this year's event of 3.5 million pound sterling. The way the situation is now that 2019 will be the last time that a F1 race will be at this legendary track, the track is owned by the BRDC and club chairman John Grant said it was time for Silverstone to "stop letting it heart rule its head".

The fee to host the F1 event was this year 15.4 million pound sterling and there will be an increase of 5% per year in the fee to host the event. The message from Silverstone and the BRDC is that they are much committed to host the event but not at any price. Not all is lost they have two years to come to a new agreement with the new owners of F1, Liberty Media, we hope that they will find a agreement that will work for both party's for the simple reason that it will be unthinkable no F1 race in the country that is a world leader in this industry.
---
The Bloodhound Project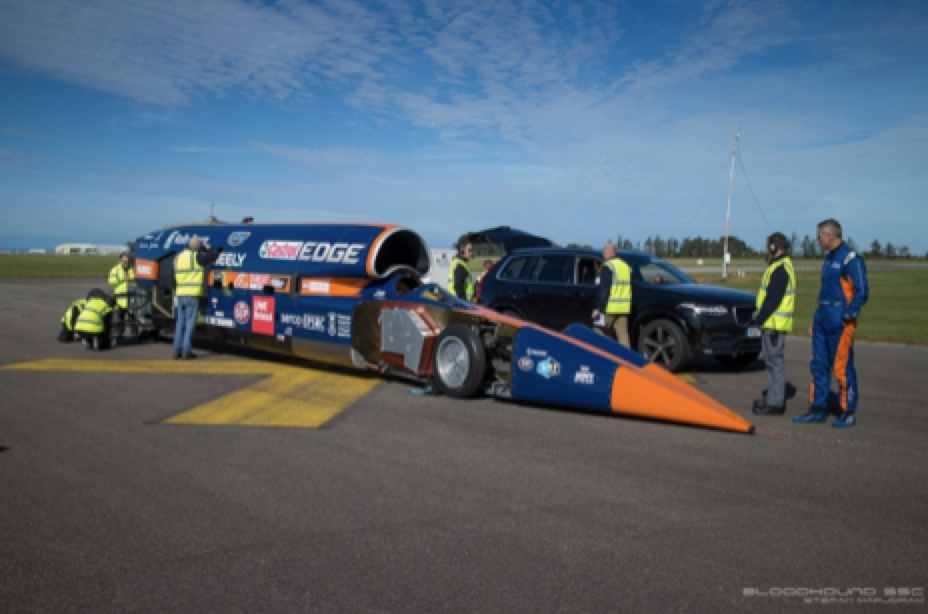 The BLOODHOUND Project centres on BLOODHOUND SSC, a supersonic car that is designed not only to go faster than the speed of sound (supersonic) but to over 1,000mph (1,600km/h). It will cover a mile in just 3.6 seconds.

BLOODHOUND SSC is approximately 13.4m long and weighs 7.5 tonnes. The design is a mix of car and aircraft technology, with the front section being a carbon fibre monocoque (like a racing car) and the back portion being a metallic framework and panels (like an aircraft).

The two front wheels sit within the body and two rear wheels are mounted externally within wheel fairings.
The Car will be powered by both a jet engine and a rocket, which together will produce more than 135,000 horsepower: that's more than six times the power of all the Formula 1 cars on a starting grid put together.
Over 110 man years of effort have been invested in the design, build and manufacture of BLOODHOUND SSC.

Design
BLOODHOUND SSC is, without doubt, the most complicated car ever built. When finished, it will comprise over 3,500 parts (and 22,500 rivets), of which many have been designed and manufactured uniquely for this car. Consequently, BLOODHOUND is a very difficult car to describe in detail! You can check it out yourself: www.bloodhoundssc.com

---
JAGUAR E-TYPE ZERO

"THE MOST BEAUTIFUL ELECTRIC CAR IN THE WORLD"
Jaguar Land Rover Classic is presenting an electric-powered Jaguar E-type at the Jaguar Land Rover Tech Fest, which opens to the public on 8 September in London.
Jaguar Land Rover Classic electrifies the past with an inventive Jaguar E-type sports car featuring fully electric powertrain.
Acclaimed by Enzo Ferrari as "the most beautiful car in the world", the Jaguar E-type now combines breathtaking beauty with zero emissions for the first time.
E-type Zero is based on 1968 Series 1.5 Jaguar E-type Roadster, and features a cutting-edge electric powertrain enabling 0-62mph in just 5.5 seconds.
Engineered by Jaguar Land Rover Classic at company's new 'Classic Works' in Warwickshire, UK.
E-type Zero makes world debut during Jaguar Land Rover Tech Fest at Central Saint Martins, University of the Arts London. The event begins with a media preview on 7 September and is open to public visitors from 8-10 September.
E-Type Zero will sit alongside the all-electric Jaguar I-PACE at Tech Fest, which goes on sale in 2018
Enquiries regarding E-type Zero should be made using: +44 (0)203 601 1255 or info@classic.jaguar.co.uk #jaguarelectrifies.