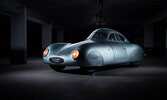 SPORTS CAR CENTRE PRESENTS
Motoring news from around the world - June 2019
The first car to bear the Porsche name is up for sale. Here's why it's a big deal
once-in-a-lifetime chance to buy a piece of Porsche (and automotive) history will come up in August when the original 1939 Porsche Type 64 crosses the block at RM Sotheby's Monterey auction. The Type 64 established much of Porsche's engineering and design DNA that continues in the Porsche 911 to this day. A record price for a Porsche is entirely possible when the auction hammer drops later this year.
The Type 64 was originally designed to compete in a 1500 kilometer (900 mile) road race, from Berlin to Rome, planned for September of 1939. The race was intended to promote Germany's autobahn highway system as well as publicize the supposed start of production of the KdF-Wagen, later known as the Volkswagen Type I Beetle, the "peoples' car" that Dr. Ferdinand Porsche had designed at the behest of Adolf Hitler.
Very few of those production KdF-Wagens were produced. Instead of a Berlin to Rome race, September 1939 is known for the start of hostilities that grew into World War II. The race never took place and the government-owned KdF-Wagen works in Wolfsburg switched production to the Kubelwagen military vehicle based on the Type I.
Before the race was cancelled, however, the factory commissioned Professor Porsche's design shop to build three lightweight performance versions of the KdF-Wagen, suitable for long-distance racing. Given the internal designation of Type 64, many consider this to be the first Porsche car, designed under the direction of Ferry Porsche by the same team of engineers that would go on to make the first production Porsche, the 356. Porsche had its neighbor in Zuffenhausen, the Reutter Works coachbuilders, fabricate a lightweight aluminum body with aerodynamic fender skirts encasing the wheels.
Mechanically, the Type 64 is pretty much identical to a pre-war KdF-Wagen Type I, with stock swing-axle rear suspension and trailing arms up front. The drivetrain was also from the Type I, though the air-cooled flat-four engine was given bigger valves, dual carburetors, and a higher compression ratio to boost power by a third to a then-impressive 32 horsepower. Using construction techniques developed for military aircraft, Reutter riveted together lightweight aluminum panels to craft the streamlined body, and while the structural elements of VW's platform chassis were retained, the steel floor panels were replaced with aluminum. To further save weight, the engine's cooling shroud, valve covers, and oil filler were also lightweight alloy instead of steel.
The Type 64 had a theoretical top speed of 95 mph, but it never raced before the war. The first chassis, #38/41, was completed in August of 1939, with 38/42 and 38/43 finished by mid-1940. The first Type 64 ended up in the possession of KdF board member Bodo Lafferentz, who returned it to Porsche after wrecking it. The second car was used for testing and Dr. Porsche and his son Ferry used 38/43 as their personal car. At some time during the war, the body from that third Type 64 was moved to the damaged 38/41 and that is the car to be auctioned off.
Both 38/41 and 38/42 accompanied the Porsches when they moved their company to the family's ancestral home in Gmünd, Austria, to escape Allied bombing of industrial facilities in wartime Germany. After the war ended, American occupation forces confiscated 38/42, letting Dr. Porsche keep 38/41 as his personal vehicle. When his car was registered for road use in Austria in 1946, Ferry Porsche applied raised "Porsche" lettering to the front, making it the first car branded as a Porsche.
In 1947, the Porsches sent the Type 64 to Turin, where Battista "Pinin" Farina himself supervised a restoration. The restored first Porsche ran next to the 356 when that model was tested on public roads around Innsbruck in 1945.
With a brand new model taking up most of their attention, the Porsches sold off 38/41 to Swiss racer Otto Mathé, who campaigned it successfully in European races, quite possibly being the first Porsche-branded car to race. Mathé retained the car until his death in 1995. Since then, it has passed through a handful of owners.
Not only is #38/41 regarded as the first Porsche car, the missing link between the Type I Volkswagen and the Porsche 356, it's in original condition and still retains almost all of its period parts. Andy Prill, a Porsche expert retained by the auction house to examine the car, said, "This is the most historically significant of all Porsche cars and it is simply incredible to find the very first Porsche in this original condition."
We checked with Rob Sass, editor of Porsche Panorama, who expects it to break a record. He told us, "The world record at auction for a Porsche is $14 million for the 917K that Gooding [and Company] sold in 2017. From a sex appeal standpoint, the VW-based Type 64 is in nowhere near the same league. But from an historic standpoint, it's not even close. The ex-Siffert 917 did nothing noteworthy beyond playing a race-winner in a film. This sole surviving example of the Type 64 was theproto-Porsche, and while it never competed in the race it was designed for, it was the first car to bear the name Porsche and nearly everyone involved with its creation went on to create the 356 ten years later. For devotees of the Porsche marque, its significance as the Ur Porsche is off-the-charts. I certainly think that it will break the current record and my best guess is around $20 million. But it could also bring more. Much more. I know where I'll be when it crosses the block."
Burt Reynolds' personal Smokey and the Bandit replica sells for $317,500
When it comes to Smokey and the Bandit, it appears a connection to the movie is more valuable that a connection to its star.
Burt Reynolds' personal 1979 Pontiac Firebird Trans Am sold for $317,500 at Julien's two-day Reynolds estate auction in Beverly Hills over the weekend. A 1977 model that served as a promotional car for the movie sold for $550,000 at Barrett-Jackson's 2016 Scottsdale auction.
Hagerty valuation specialist Greg Ingold admitted that $300K+ for a 1979 Trans Am is a lot of money, "but it obviously isn't on par with a car directly associated with the movie."
Regardless, Reynolds' star power carries enough weight to increase the value by 500 percent or more. A 1979 Pontiac Firebird Trans Am with a 220-horsepower, 400-cubic-inch V-8 has an average value of $61,400 in #1 (concours) condition, while one in #2 (excellent) condition is worth $44,900.
Reynolds, who starred in Smokey and the Bandit and was box office gold in the late 1970s and '80s, died last September.
According to Julien's, the '79 Trans Am was custom built by Bandit Movie Cars for Reynolds and his business partner, Gene Kennedy, to replicate the car Reynolds drove in the movie. Reynolds used the Trans Am on the "Bandit Run," as well as on several cross-country rallies that celebrated the 40-year anniversary of Smokey and the Bandit. The car has 70,000 original miles.
Reynolds' 2014 Cadillac ATS, custom painted in Florida State University colors, sold for $41,600. The car has 15,000 miles and wears a Florida license plate that reads 22FSU—Reynolds' jersey number when he played football for the Seminoles.
Reynolds' signed, original 386-page Smokey and the Bandit script sold for $37,500, nearly 19 times its original starting estimate of $2,000; the scanner and CB radio from the movie sold for $25,000 (pre-auction estimate was $2,000–$4,000); and Reynolds' personal 35mm copy of Smokey and the Bandit sold for $21,875, almost 73 times its pre-auction estimate of $300.
The Salsbury Model 85 was the second scooter in E. Foster Salsbury's lineup after the 1936 Motor Glide, the world's first commercially viable motor scooter. The Motor Glide was an instant success, and rivals like Cushman and Moto Scoot quickly followed it with their own models. The Model 85, available in Standard and Deluxe trims, were out of this world. "The Buck Rogers rocketship of motor scooters," says Jay Holdash, who owns a Standard restoration candidate for which he spent years searching.
"From a valuation standpoint nicely restored scooters can bring up to $15,000. Recently a superbly restored Model 85 and sidecar sold at auction for $22,000," says Scott Doering, who is the International Salsbury Restorer's Society webmaster. "If you are looking to acquire one it is best to find one that is complete. Parts are hard to come by. There are a couple guys in the hobby who have amassed large spare parts collections, but other than that a collector is on his own."
1953-1964 Zundapp Bella
The Bella used a 146cc or a 198cc two-stroke engine. Unlike most scooters, which used ten- or even eight-inch steel wheels, the Bella rolled on 12-inch cast aluminum wheels that were a lot less likely to get swallowed by pothole on rough roads. Early bikes featured an undamped, telescopic front fork, but Zundapp soon ditched it for a more sophisticated Earles-type leading link fork with a shock absorber on the left side.
Zundapp built 150,000 Bellas over ten years, which pales in comparison to Vespa, but the popularity of the Bella and the similar Heinkel Tourist fuels a relatively robust parts market. "The Bella interest groups in Germany have put a lot of Bella parts back into production.
1965-1967 Fuji Rabbit Superflow S601
The Fuji Rabbit holds a unique position in American automotive history. Malcolm Bricklin started selling the scooters, which were built by Subaru's parent company, in 1966 before offering the Subaru 360 when Fuji couldn't fill enough Rabbit orders.
Although Fuji offered several different Rabbits, the 200cc two-stroke Superflow S601 is the one to have. It offered a slew of features, including an electric starter and an automatic transmission with an automotive-style fluid torque converter for imperceptible shifting, and rear air suspension.
"Truly the Cadillac of motor scooters," Holdash says. "They're slow off the line, but they have plenty of power for cruising, even with two riders. It's the perfect combination of luxury and usability."
Despite being produced for just three model years, Rabbit Superflow 601s regularly come up for sale and aren't ridiculously expensive. In fact, prices have receded somewhat because parts are getting tougher to find.
1957-1959 Lambretta TV175 Series 1