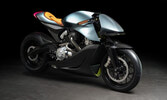 SPORTS CAR CENTRE PRESENTS
Motoring news from around the world - January 2020
As probably noticed by our regular readers, we didn't send out a news letter last month, December 2019, for the simple reason that there was not that much news to write about.
But here we go for a new, and hopefully very exiting year, with news about the collector car world and historic competition events from around the world.
Lancia Group B rally cars are tearing up the market
Lancia has made its way into the headlines a few times this year—for good reason. From RM Sotheby's sale in Essen, Germany, to Gooding & Company's Pebble Beach sale, some truly special Lancias have been up for grabs. And over the course of the summer, one thing has become apparent: Group B-era Lancias are going nuts.
The Group B years (1983–86) were those of raw, unrestrained power and had every major European manufacturer duking it out to have the most powerful cars to hit each stage. Lancia, a rally racing powerhouse from the 1960s–'70s, came out swinging and early on established a reputation as the marque to beat. It didn't take long for Audi and Peugeot to catch up, making it an all-out arms race.
This golden age of rally racing has made all associated cars quite sought after today. As of late, Lancia has been leading the charge, with some truly astonishing prices being paid. Most astonishing is that Stradale variants made for homologation have been bringing even higher prices than cars with actual race history. Historically, cars with race history are eligible for special events, thus adding to their desirability and higher prices, so this recent trend is unusual.
Perhaps enthusiasts would rather have the drivable variants than event-eligible ones. Either way, these cars are incredibly cool and a major piece of rallying history.