Motoring news from around the world: January 2018


Revolutional Personal Transport: 1953 Piaggio Ape Calessino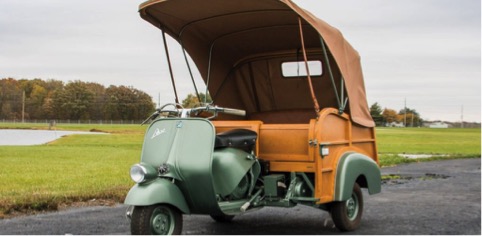 The first version of the Ape debuted in 1948 and was essentially an open 125-cc Vespa scooter with a two-wheeled, hydraulically braked chassis in place of the rear wheel.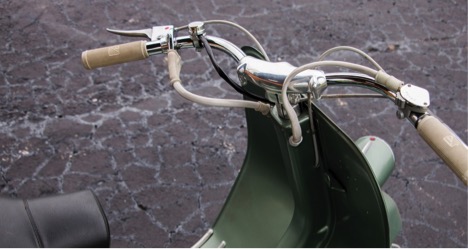 Any number of bodies could be erected on it, the most iconic being the beechwood and masonite-framed Giardinetta (later called the Calessino). The model "B" followed in 1952, with a 150-cc motor. The Ape's incredible adaptability to design variations remained, and the initial eight rose to 20 different body styles by 1958.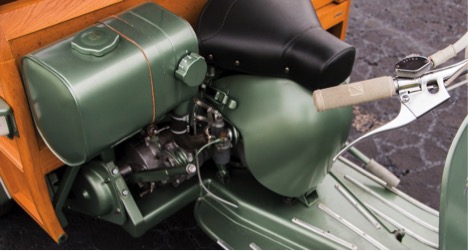 Eventually the Ape would come to be recognized as making a decisive contribution to the revival of trade and goods transport during the rough years of reconstruction following World War II. A symbol of Italy at work, it became a huge success around the world, thanks to its incredible handling and superlative payload/tare ratio.
---

Reborn Hero: Are You Ready For The Kremer K3R?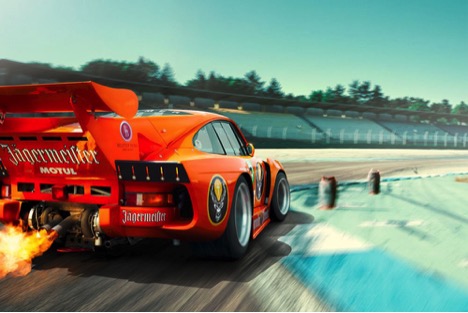 'Porsche Kremer' lives up to a legend that has its roots in the passion for the Porsche racing sport and is passed on by the knowledge of people who have been bringing out the best in a Porsche and its timeless design for decades.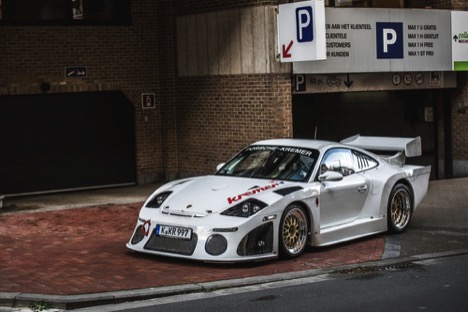 As a tribute to the history of Kremer and as a prelude to a new era, Kremer embarked on the K3R adventure. Behind the Kremer team lies a wonderful and also exciting time: the development of the K3R through unique craftsmanship and detailed work. It is precisely this which makes the K3R an icon that brings the passion for performance and design to the road. "Since the first rollout in 1979, I have been more fascinated by the Kremer K3 than any other vehicle in the world. Its incredible driving qualities are only surpassed by its spectacular and muscular appearance." says Eberhard Baunach, owner of Kremer Racing.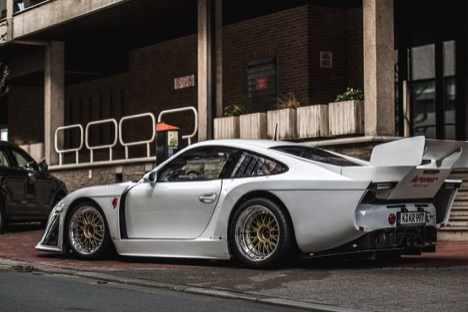 Like its great grandfather, the 935 K3, every newly created 997 K3R is unique in its subtle differences. This is certified by the 'Original Porsche Kremer' emblem and its individual production serial number. "To me, the continuation of the Porsche Kremer Line means upholding quality and passion within the driving and racing sport. Thus, the K3R is also a visible and tangible statement about the legend we live on a daily basis." summarizes Eberhard Baunach.

KREMER K3R
The basis – A Porsche 997 Turbo is the beating heart of the K3R
With its solid and robust technology, it fulfils all the prerequisites needed to build the unique K3R.
Your vehicle – The Porsche Kremer Upgrade for your 997 Turbo
You already own a 997 turbo and you want to add the legendary feel of the K3? We would be happy to make you an individual offer. Of course, we also advise and support you in selecting an ideal base vehicle.

The result – A Kremer 'one of a kind'
The Kremer K3R embodies the rebirth of a motor racing legend in a breathtakingly muscular appearance. Due to its incredible driving characteristics, adrenaline and endorphin release are guaranteed. Customized and individually cut like a beautifully tailored suit. The K3R is registered to drive on the roads and is utterly unrivaled. How could it be otherwise? After all, it is one of a kind.

Exterior

The aerodynamic conversion is orientated around the Group 5 regulations from the 1980s. This flat-nosed machine provides significantly stronger contact pressure on the front axle.
'Length runs' is not only a term coined by sailors: we have pushed the dimensions to the limit of what is feasible (approx. length x width x height): 5025 mm x 1970 mm x 1295 mm
Its bullish appearance is only surpassed by its Nürburgring Nordschleife abilities.

Engine

The basic 997 Biturbo engine remains unchanged. On request, we will gladly offer you a 1:1 engine and gear revision. In addition, we can offer power increases of up to approx. 800 hp.


Chassis / Suspension

Bilstein Sport chassis with a ground clearance of only approx. 70 mm for optimal road hold-ing. Optionally, we offer you a Bilstein-based air-lift suspension (+/- 55 mm).


Wheel rims

3-piece BBS rims,
9J and 11J x 19 inch


Tires

Michelin Pilot Sport Cup 2
front axle 245/35 ZR 19 – rear axle 325/30 ZR 19


Interior design

Basic design: the entire interior retains the familiar 997 Turbo optics. On request, we will customize your K3R with roll cage, sport seats, leather, fabrics, wood or Alcantara.

All prices are on request.


---
A Craftsmanship Showcase: The Bentley Continental GT First Edition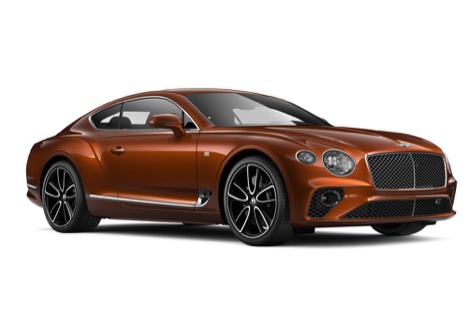 Bentley Motors has created an exclusive First Edition of the all-new Continental GT. This ultimate expression of the Grand Tourer represents the pinnacle of Bentley craftsmanship, handcrafted and designed in Great Britain.

Exquisitely appointed, the interior specification of the Bentley Continental GT First Edition has been painstakingly curated by the Bentley design team. The new model combines all the finest features available on the third generation Continental GT, brought together to create the most luxurious Grand Tourer ever produced.

A stunning showcase of technology and design, the First Edition includes the unique Bentley Rotating Display. This system enables the driver to seamlessly switch between three different fascia panels to suit the mood of the cabin. The default 12.3" touch screen can be substituted with a more classically styled instrument display if preferred; one that features three analogue dials. When the engine is off, the third veneer-only face is displayed for an uninterrupted flow of wood right across the dashboard.

Customers can choose from one of four unique Dual Veneers for the dashboard fascia. These beautiful wood options include Tamo Ash, Liquid Amber, Dark Stained Madrona and Dark Fiddleback Eucalyptus, always combined with Grand Black, which is exclusive to the First Edition.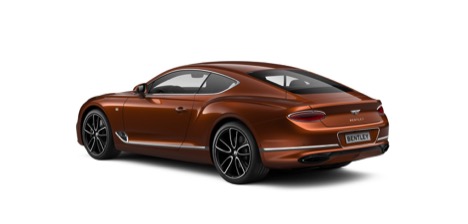 These exceptional finishes help create the impression of even more space inside an already sumptuous cabin, and complement a striking interior design that is beautifully enhanced by mood lighting and illuminated sills emblazoned with 'Bentley', visible when opening the doors.

Mirroring the performance of the new Grand Tourer's 6.0-litre, twin turbocharged W12 TSI engine; the Mulliner Driving Specification is also included with the First Edition. This driver-focused collection adds drilled alloy foot pedals, jewel-finish oil and filler caps, and unique, 22" wheels, available in bright paint, black and hand polished or fully polished finishes.

The specification is complemented by diamond-in-diamond quilt pattern on seats, door panels and rear quarter panels, all featuring a unique contrast stitch only available with the First Edition.

Other key additions to the ultimate list of standard equipment include the City Specification and Touring Specification, with features such as park assist, pedestrian warning and traffic sign recognition. The Bentley 650 watts audio system can be upgraded with either the Bang & Olufsen system of 1500 watts, or for the true audiophile the top-of-the-range Naim audio system with 2200 watts.

Discreet Union Flag First Edition badging throughout the interior and exterior of the Continental GT identify the car's exceptional credentials, in addition to a unique Union Flag tread plate plaque.

No prices available at this time.


---
Famous Five... Alfa Romeo in F1
There's only one word to describe it: Alfabulous! Yes, Alfa Romeo is back in Formula 1 after an absence of more than 30 years. And that, if you're a race fan on any level, is exciting news.

The iconic Italian marque has entered into what's being described by parent company Fiat Chrysler's CEO Sergio Marchionne as a "strategic, commercial and technological cooperation" and "the exchange of engineering and technical know-how" with the Sauber Formula 1 team, helping to further strengthen the bond between the Swiss team and Ferrari, over which Marchionne also presides.
In anticipation of the 'Quadrifoglio' returning to motorsport's top tier, we've cast our minds back through Alfa's F1 past to select five moments that resonate among fans of this most passionate and historic of automotive and racing brands – and not always for their success.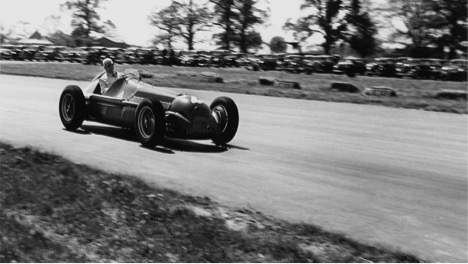 1950s world-title double

Alfa Romeo's factory 158s, with their 1.5-litre supercharged eight-cylinder engines, dominated the first year of the Formula 1 World Championship in 1950. They took a podium lock-out in the very first GP, at Silverstone, and had at least two cars on the podium in five of the six races. Giuseppe Farina and Juan Manuel Fangio won three events each, with Luigi Fagioli securing four second places to ensure a 1-2-3 for Alfa in the drivers' standings. Alfa made it two in a row in '51 when Fangio took the uprated 159 to three wins and the first of his five world titles.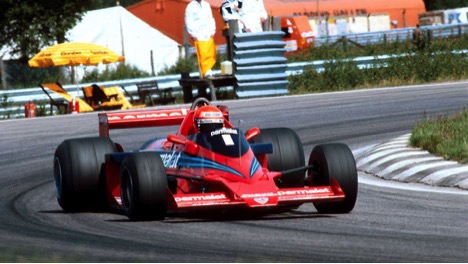 Back to the front in the back of a Brabham

Bernie Ecclestone's Brabham team, which had won five races with Ford Cosworth DFV power in 1974 and '75, switched to Alfa Romeo motivation for 1976. The company's 3-litre flat-12s were shoehorned into the Martini-striped BT45s of Carlos Pace and Carlos Reutemann and the soundtrack quickly matched the look. The on-track results were not as satisfying, though, with a handful of fourth places the best results. Things improved for '77, Briton John Watson leading several races only to be let down, usually by the thirsty Alfa engine. Success did come Brabham-Alfa's way, via the controversial BT46B 'fan car' and Niki Lauda in Sweden in '78. The Austrian then inherited victory at Monza later that year in the more conventional BT46. The partnership ended after the Italian GP at Monza thanks to a return to Ford power next time out in Canada.



Remaking its marque

Three years after the first tie-up with Brabham, the factory Alfa Romeo concern was back in Grand Prix Racing as a constructor. A sole, 3-litre flat-12 177 was entered for Bruno Giacomelli by Autodelta, Alfa's competition arm, in the 1979 Belgian GP at Zolder. Two uprated 179s, now with V12 power, would appear for Giacomelli and fellow Italian Vittorio Brambilla in the Italian GP, also scene of Alfa's last appearance as an engine supplier with Brabham. The full-blown Alfa team was back, and hopes were high.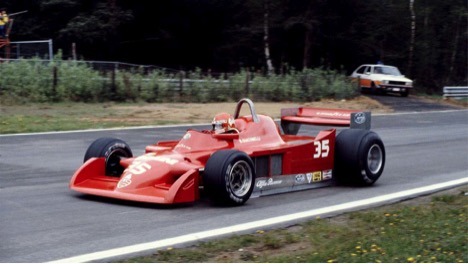 Oh so close at The Glen

The 179 continued into 1980, with French ace and proven winner Patrick Depailler joining Giacomelli. The season was beset with reliability issues, but that paled when Depailler was killed in a testing accident at Hockenheim in August. The team continued, with Brambilla briefly recalled and young Italian Andrea de Cesaris joining for the final two races. Spirits were lifted in the very last race of the year, the US GP at Watkins Glen, when Giacomelli took pole position and comfortably led the first half of the race at Watkins Glen. Sadly, electrical woes put paid to what looked like being Alfa's first win as a constructor since 1951.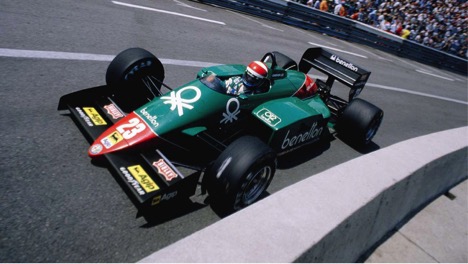 Fashion fever halts Alfa's charge

Alfa Romeo's final full-blown F1 effort as a constructor came in 1985. Riccardo Patrese and Eddie Cheever were retained for a second year in the Benetton-sponsored team, starting the year in Brazil with an all-new 185T. The car looked cool but was uncompetitive during the first half of the season, so Alfa reverted to the previous year's 184T after Silverstone's British GP in July. It made little difference and the programme was disbanded at the end of the year. Alfa continued until the end of the 1987 season, supplying engines to the tiny Osella team, but a little bit of the magic, that could trace its roots back to 1950, died 30 years ago.


---
Lamenting Lancia at 111.
If you're a fan of motorsport, then you should owe a huge debt of gratitude to Lancia, just as you should if you are a real car enthusiast.

And from a general automotive enthusiasts' viewpoint, without Lancia we probably would have had to wait considerably longer for an endless stream of important innovative engineering that we now take for granted in our cars, such as electric car lighting, a monocoque platform, a five-speed gearbox, V6 (and V4) engines, independent suspension, and so on. We wouldn't have been so well entertained either, trackside, or in the forests, deserts and other rally stages the world over, had it not been for Lancia.

To purchase a Lancia in the 1930s, you needed to be a true motoring enthusiast who not only appreciated the finest in automotive engineering, but also had very deep pockets, as a new Lancia was an expensive motor car.

Lancia's deserved reputation for making some of the finest cars in the world was borne out of its exceptional quality and innovative excellence. In 1913, for example, Lancia introduced first European car to be equipped with standard electrics for its lighting, etc., the Theta, with another major innovation, the world's first monocoque, being seen on its Lambda in 1922. Lancia introduced the world's first V4 engine in its new Augusta at the 1932 Paris Salon, and followed this up with arguably one of the most competent and important cars of the 1930s, the pillar-less Aprilia.

Post-war, Lancia introduced the first five-speed manual gearbox in its third-series Ardea, with the world's first V6 motor announced just three years later in the stunning 1950 Aurelia. In its beautiful Pininfarina-bodied coupe form, the Aurelia also invented the GT Gran Turismo, with Lancia claiming the first independent suspension too, for both its Aurelia and Flaminia.

As well as producing a string of outstanding models post-war (Aurelia, Flaminia, Flavia, Fulvia, Stratos, Delta, etc.), Lancia excelled in competitive motor sport, especially rallying, where statistically it remains the most successful marque of all-time, despite officially withdrawing from rallying in 1992!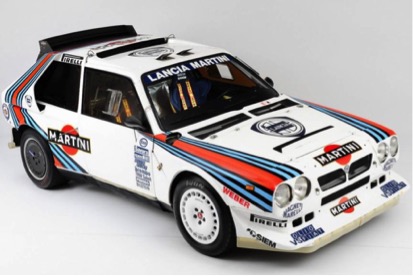 Lancia dominating rallying for 20 years, winning the World Rally Championship (WRC) in 1972 (Fulvia V4), 1974-76 (Stratos), 1983 (037), and 1987-92 (Delta Integrale). Quite a feat, that has yet to be bettered, and quite an exceptional car marque overall.

The company's websites in France, Germany, Switzerland, etc, have now been switched off, leaving the domestic Italian market the only place left in the world where you can still buy a brand-new Lancia, albeit with just one remaining model, the rather inadequate Ypsilon city car. Once the current Ypsilon ceases production in a couple of years' time, it will not be replaced, consigning yet another great car brand to the motoring history books, along with Rover, Saab, Oldsmobile, Tatra, Pontiac, and other recent entrants. Tragic.


---
Is there hope for Formula1???
Formula 1 is going through one of its now traditional periods of navel-gazing, trying to work out how it's going to power itself in the future after the existing tranche of regulations expire at the end of 2020. And it seems the answer it's heading for is a simplified version of what it already has, but still a 1.6-litre hybrid that will be encouraged to rev a little higher to improve the way it sounds.
Red Bull's Christian Horner offers another solution: a cheap, off the peg 1000bhp V12 that sounds incredible. I don't always agree with Horner's pronouncements but, on this occasion, he is completely spot on.

Ask yourself why F1 cars have small capacity hybrid engines and the answer is clear enough. Is it because it's what the majority or even a significant minority of people who actually follows the sport wants? Clearly not. The wishes of the people who finance Formula 1 through their purchase of tickets, television subscriptions or sponsors' products are entirely ignored because, well, they can be. Forget the spectators who give up time and money to go the races, forget the people who give up 20 Sunday afternoons in the increasingly forlorn hope of watching a decent motor race. Design your sport instead around the only people who want small capacity hybrids in the back of F1 cars: namely the people who make them. Car manufacturers in other words.

But basing your sport around the whims of organisations whose core business lies elsewhere is a perilous policy to pursue. Car manufacturers, whether as a constructor or engine supplier, are not in F1 for the sport but to sell cars, which is entirely fair enough. It only becomes problematic when, for whatever reasons, they decide to go and do something else instead.

A terribly good example of exactly this is happening in sportscar racing right now. Three years ago the top level of this branch of the sport had rarely looked healthier.

Porsche, Audi, Toyota all fielded hybrid cars in the LMP1 category and despite their massive specification variance – V4, V6 and V8 engines, normal aspiration and forced induction, petrol and diesel power, two- and four-wheel-drive, hybrid provided by battery, flywheel and super capacitor – the cars were all super competitive and the racing was great. But then it all got a bit expensive while, at the same time, manufacturers started to realise that they'd focussed on hybrid for long enough, their long term future actually lay in electric cars and, in the case of the VW owned brands money needed to be saved to offset the expense of the dieselgate scandal. So Porsche and Audi pulled out to join the growing throng of Formula E constructors, leaving Toyota marooned and facing the ignominy of competing effectively in a class of one, and racing to a string of entirely empty victories, or withdrawing entirely.

Will the same happen to Formula 1? Until we see in full what plans Liberty Media have to put some spice back into the show it's hard to say. But I will always draw a clear distinction between what I consider to be pure race teams like Williams and McLaren, teams for whom racing is not the means to justify the end, but an end in itself, and Mercedes-Benz and Renault whose ultimate agenda lies elsewhere.

For what it's worth, if I were responsible for making F1 an interesting spectacle once more there are three areas in which I'd focus. First, the cars must become harder to drive. Drivers emerging without a hair out of place at the end of a two-hour race is not what spectators want to see, nor should they be so easy that newcomers to the sport can master them with ease. Second, we need to be able actually to see how hard they are to drive and the drivers' skills in mastering them. This means elongated braking areas which in turn means decimating downforce and augmenting mechanical grip so the cars actually slide around and are able to follow and overtake one another. Finally, for drivers who make mistakes there should be consequences. I have no more desire to see a driver hurt than anyone else, but nor should cars be able to fly off the circuit and simply drive back on again if nothing had happened. I'd like to see the return of gravel traps so deep you simply can't just drive out of them and drag stones back across the circuit. F1 should be the ultimate precision sport, not the loosely interpreted, inconsistently enforced free-for-all it appears to be at present.

Will any of this actually happen? I doubt it. As someone far cleverer than me once observed, F1 is a sport on Sunday afternoons alone – for the other 345 days of the year it is a hard-nosed business. Even so, there is an opportunity here for F1 to demonstrate it's realised that what matters most is the show and the spectators and viewers who watch it. There may not be another for years to come.
Liberty Media should have a look at the Historic race festivals, they attract enormous crowds of spectators, for the simple reason that the race car enthusiasts can see, smell and hear all the different engine sounds, it is sad but trough that the great baking show in the UK attracts more viewers than the formula 1 race at Silverstone and this is in mad racing country England !!!!!!!!!.


---
Morgan EV3: new details of electric three-wheeler revealed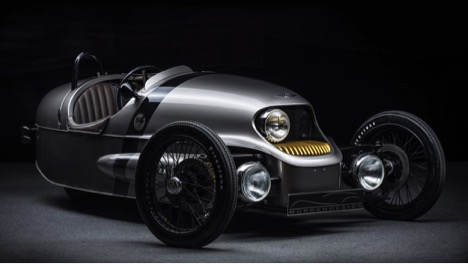 Morgan has revealed a new technical partner for the electric three-wheeler's powertrain: Frazer-Nash Energy Systems.

What does that mean for the EV3? Morgan says that the electric drive system 'will have greater performance with rapid charging technology, proven reliability, a lower centre of gravity and greater acceleration over and above what was previously expected.'

Pricing still isn't known yet, but Morgan confirms that the EV3 will (finally) start production in 'Q3 of 2018', or in other words autumn. Keep reading for everything else we know so far.
Some performance and range specs!

Underneath the distinctly retro-looking exterior is a 62bhp water-cooled electric motor, which drives the rear wheel only – as per the conventional 3 Wheeler. Power comes from a 21kWh lithium battery pack, which is encased in the Morgan's tubular chassis.

Morgan states a range of 120 miles, which should prove more than enough for most. It trails the petrol 3 Wheeler in the straight-line acceleration stakes, though; Morgan says the EV3 takes 'less than' 9.0sec to accelerate from 0-62mph, whereas the 82bhp, 1983cc V-twin petrol version takes 6.0sec.
The EV3 topping out at 90mph – whereas the S&S-powered 3 Wheeler will run on to 115mph. Still, on the plus side, you'd be able to fire up the EV3 at the crack of dawn and sneak out for a quick blat without causing any aural anguish to your neighbours.

Both weigh a similar amount, mind – 500kg for the EV3, 525kg dry for the petrol variant. The EV3, however, is the first Morgan to feature composite carbon panels – the bonnet, side pods and tonneau cover – while the remainder are formed from aluminium and suspended from the same ash frame.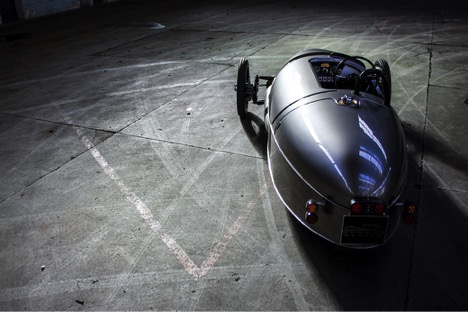 What's going on with the grille?
It's not just for looks – those are solid brass bars up front; they surround the battery and provide cooling. Other exterior changes, compared to the petrol-powered 3 Wheeler, include the distinctive off-centre headlight.


Personally I do have a soft spot for Morgan's, but I can't get any goose bumps about this creation.
Given it's after the holiday season and if the credit card isn't maxed out, here is a change to go a step further. Expand the budget into the millions. Find something you'd have seen in action at Goodwood in period, maybe with an aluminium body and V12 engine. Sky's the limit.

Actually the sky isn't the limit in this one. And while a Ferrari 250 GTO fits the above search criteria the find this week is, in relative terms, a bit of a bargain. Indeed, given classic Ferrari values I could almost fund an entire squadron for what one GTO would cost.

An American site listing a Spitfire MKIX for sale says you could acquire it as-is for just shy of half a million.

Seems it's actually in the UK though, listed for sale with Sussex-based Aero Vintage who say that to get it airworthy would require "between £2.25m and £2.75m plus VAT, depending on specification". As if it were a question of what leather trim you'd go for or which of your lady friends you'd like depicted as nose art on the engine cowling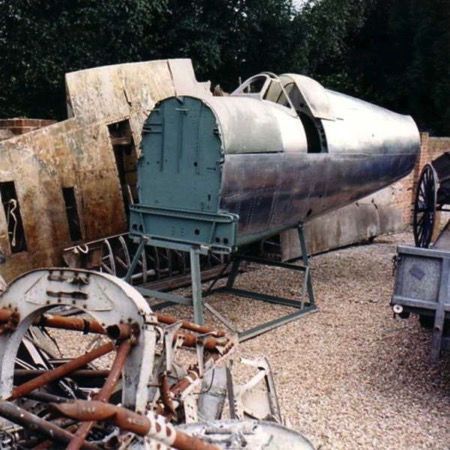 Choice is yours, as the advert promises. Just be prepared to hand over a £190,000 deposit to buy into the project, sign a restoration contract with provision for (probably substantial) monthly invoices and set aside a £150,000 final payment once complete to take possession of the permit to fly.
All this would take at least two years, giving time to, you know, learn to fly and everything. And able to turn more heads on arrival at Goodwood than a GTO costing 10 times as much.
---