Motoring news from around the world - February 2018
60 YEARS OF COSWORTH
For the last 60 years Cosworth has continued to deliver firsts on the racetrack and the road, as they have since 1958, when Mike Costin and Keith Duckworth formed their new company to "make a living messing around with racing engines."
1959-62 | THE BEGINNINGS
Cosworth launch their first engine for Formula Junior a year after their launch, claiming their first victory just a year later. Based on the Ford road engine, Cosworth's engines were the first to break the 100 bhp per litre barrier and dominate in Formula 2, 3 and Junior.
1967 | DRIVING INTO FORMULA 1
Approaching their first decade, Cosworth launch the DFV into Formula 1. It wins first time out and goes on to become the most successful Formula 1 engine of all time, with notable drivers such as Graham Hill, Jackie Stewart and James Hunt all claiming victories. Throughout its Formula 1 history, the DFV engine is used by more than 55 teams including Team Lotus, McLaren, Tyrrell, Brabham and Williams.
THE RECORD I 155 GP VICTORIES, 10 DRIVER'S and Constructors CHAMPIONSHIPS
1969 | HITTING THE ROAD
Cosworth launches the BDA, their first mass production road engine, developed and released for use by Ford in their Escort road cars. Not content with conquering the roads and rallies, variant models of the engine go on to great success in Junior categories on the track, such as Formula Atlantic and Formula 2.
1975 | GOING STATESIDE
Cosworth launches the DFX, a turbo-charged version of the DFV into the U.S, where it goes on to win 10 consecutive Indy 500 races and dominates the series for a decade.
1984-85 | PERFORMANCE TO THE ROAD
In 1984, Cosworth launch the WAA, a twin-overhead cam development of their existing motorsport engine for the Mercedes' 190E road car. The engine is Cosworth's largest mass-produced engine of the time, with over 5,000 units produced every year. A year later, the legendary Cosworth YBB hits the road, powering the new Ford Sierra RS Cosworth. Over the next decade a number of variants are released including the YBC for Group A rallying, the YBD for Group A Touring cars and the limited edition Ford Sierra RS500 and the YBT & YBP for the Ford Escort RS Cosworth.
1987 | THE START OF CONNECTIVITY
Cosworth's present-day electronics division is founded by Cambridge University researcher, Tony Purnell under the name Pi Research. The launch of their Black Box is the first electronic dash display and combined data logger to be used in professional motorsport. This ground-breaking technology means for the first time race teams can evaluate if changes they make to the car actually deliver a competitive advantage.
1993 | TRANSATLANTIC GLORY
Cosworth launches the XB engine, an all-new design built both in the UK and USA, leading to Nigel Mansell taking the IndyCar Drivers Championship that year. At the same time in Europe Cosworth engines are the class leaders in Touring cars, winning multiple championships under the bonnet of Ford Mondeos and Opel Calibras.
2000 | MILLENIUM FIRSTS
Cosworth continues its history of innovative firsts with VIDS1 (The Video Indexed Data System), revolutionary technology for synchronising video with logged data. For the first time allowing teams to easily cross-reference how car and driver are performing on the track.
2003 | THE CHOICE OF CHAMP CARS
With Chevrolet backing, the XG sees Cosworth win 3 races in its first season of the new IRL Indycar series. With the launch of the XFE, Cosworth becomes the sole engine supplier for the Champ Car World Series and Cosworth Electronics supply the complete set of car electronics to both series.
2010-11 | CONNECTING MODERN MOTORSPORT
Cosworth begins exclusive delivery of custom scrutineering for the Intercontinental Le Mans Cup (now the World Endurance Championship) to include all 55 cars, delivery of data across a pit lane network and real-time analysis. Later in the year, Cosworth also develops a new generation of dash-logger and power management systems for the Porsche GT3 Cup. A new WiMax based 4G telemetry system, Live on Air ™ provides a dedicated network for the series, media partners and teams completing in IndyCar.
2014 | STATE OF THE ART OPENING
Cosworth opens its new state-of-the-art flexible manufacturing facility. The Advanced Manufacturing Centre delivers OEM style production capability for smaller production runs of up to 5,000 units for high-performance engines and premium car manufacturers
You could own Bernie Ecclestone's old red D-Type
Picture a Jaguar D-Type: sensuous, perfectly proportioned, aerodynamic… and either British Racing Green or Ecurie Ecosse blue. So whoever wanted a red one?
That would be Bernie Ecclestone. In the late 1950s, before he ruled Formula 1, he worked in the motor trade and, the story goes, when he saw the unusual red Jag sitting unsold (it was red!) at Jaguar dealer Henlys of Manchester he snapped it up.
From his office in Warren Street – London's top people's car trade centre at the time – Bernie didn't waste time finding an owner for it. He sold it on in 1956 to the amateur racer Peter Blond – who immediately took it racing: to Oulton Park, Aintree, Silverstone, Snetterton and of course Goodwood, where the red car was ninth overall in the Goodwood Trophy in September of '56.
Then began this most uncommon D-Type's distinguished racing career, one that continued via other successful owner-racers like Jean Bloxham into the 1960s. Later owners included Peter Grant, manager of Led Zeppelin, and a succession of keepers in the US after the car crossed the pond in 1982.
Today the car's unbroken provenance and stand-out appearance – as our pictures show, in red you really do have to look twice to see that it is a D-Type – have made it one of the most original and well documented of the 53 customer D-Types made.
XKD518 was always strikingly red and is believed to be one of just two D-Types finished in that colour by the factory. As a customer car, it came in short-nose, triple Weber form, with the 3.4-litre XK straight-six pumping out 250bhp for a top speed around 170mph.
In 1956 Peter Bond paid Bernie Ecclestone £3500 for the red D-Type. "I was struck by the sight of this amazing red D-Type and the young man (selling it) called Bernard Ecclestone," Blond is quoted as saying. "It was the best road car that I ever owned." Now the car is for sale again, as one of the star lots in the Gooding & Co Scottsdale Auction in Arizona on 19-20 January.
And the price today of standing out in the D-Type crowd? US$10-12 million (about £7.4-8.8m). Bernie would be proud!
New Year's Day Gathering at Brooklands Museum
Brooklands Museum celebrated the end of a momentous and record-breaking 2017 with an amazing turnout of 1,119 classics, sports and supercars and over 5,600 people at its New Year's Day Classic Gathering. The Brooklands event, believed to be the biggest January 1st classic meeting in the UK, lived up to its billing with a rich and varied display by clubs and individuals taking full advantage of the completion of the Museum's Aircraft Factory & Race Track Revival project.
Dan Gurney obituary
World-class racing driver and team owner who was the first to spray champagne in celebration.
The American racing driver Dan Gurney, who has died aged 86, was said to be the rival most feared by the great Jim Clark. He was at the start of the most remarkable week of his career in the cockpit when, on a Sunday afternoon in June 1967, he mounted the podium at Le Mans alongside AJ Foyt, with whom he had shared the winning Ford GT40 Mk IV in the famous 24-hour race. Gurney was handed the victors' usual bottle of champagne but, instead of drinking it, gave it a shake before aiming a spray of foaming liquid at the spectators gathered to acclaim his triumph, thus inaugurating a style of celebration that became universally adopted.
Seven days after his success at Le Mans, Gurney drove an Eagle Weslake, built by his own British-based team, initially called Anglo American Racers, to victory in the Belgian Grand Prix on the Spa-Francorchamps circuit, making him the first American to win a world championship grand prix at the wheel of a car he had built. It was one of four grands prix he won in a Formula One career encompassing 86 races between 1959 and 1970.
At home he entered the Indianapolis 500 several times, finishing second in 1968 and 1969 at the wheel of his Eagle Ford, and third in 1970. He was also successful in the Nascar series for modified production saloons, winning five races between 1962 and 1972. His team, retitled All American Racers, went on to win many races and championships under his supervision, including the Indy 500 three times as well as the Sebring 12 Hours and the Daytona 24 Hours.
Daniel Sexton Gurney, racing driver, racing car constructor and team owner, born 13 April 1931; died 14 January 2018.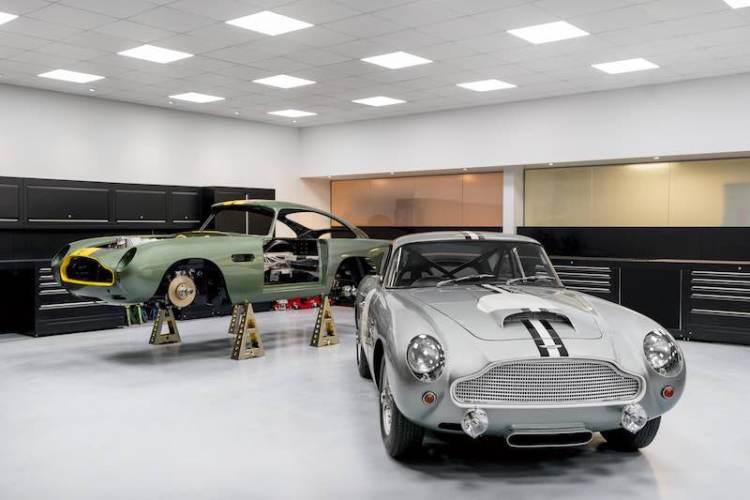 Production Returns to Aston Martin Facility.
Another landmark in Aston Martin's 'Second Century Plan' was achieved with production officially returning to the company's historic Newport Pagnell site. History has come full-circle, with a special run of 25 DB4 G.T. Continuation cars being built at same site as the original DB4 G.T.s were made almost sixty years ago.
Since moving to its purpose-built headquarters and production facility at Gaydon in 2003, Aston Martin's Newport Pagnell premises has been home to Aston Martin Works — heart of the marque's heritage sales, service, spares and restoration operation. Production of the Mk1 Vanquish ceased in 2007, but since that time countless classic Aston Martins have been restored to their former glory by the Works team.
With such a depth of knowledge and experience, and with Aston Martin Works being the spiritual home for many of the marques most celebrated models, from DB2/4 to Vanquish S Ultimate, Newport Pagnell was the perfect facility at which to build the DB4 G.T. Continuation cars. Each car is a demonstration of Works' ability to blend authenticity and old-world craftsmanship with modern techniques and performance enhancements.
It's barely 12-months since Aston Martin President and CEO, Andy Palmer first announced the DB4 G.T. Continuation project, yet the first of these track-only lightweight specification cars have already been delivered to their owners. With each car taking approximately 4,500 man hours to build, the remaining cars will be completed and delivered during the course of 2018.
Paul Spires, Managing Director, Aston Martin Works said of Newport Pagnell's official return as a production facility: "It's a source of enormous pride that our Tickford Street premises are once again building new cars for Aston Martin. The DB4 G.T. Continuation is the perfect demonstration of the capabilities we have here at Works and testament to the timeless appeal of Aston Martin's illustrious classics."
Andy Palmer, CEO Aston Martin, added: "For more than half a century Newport Pagnell was the heart of Aston Martin. Thanks to the efforts of those at Aston Martin Works it has since become the torchbearer for our Heritage division. It's immensely satisfying and wholly appropriate that this historic, yet state-of-the-art facility should now form a key part of our expansion. Together with Gaydon and our all-new production facility at St Athan – which is progressing towards completion – it's my pleasure to see production officially return to Newport Pagnell."
International field of Formula 5000 monsters confirmed for #76MM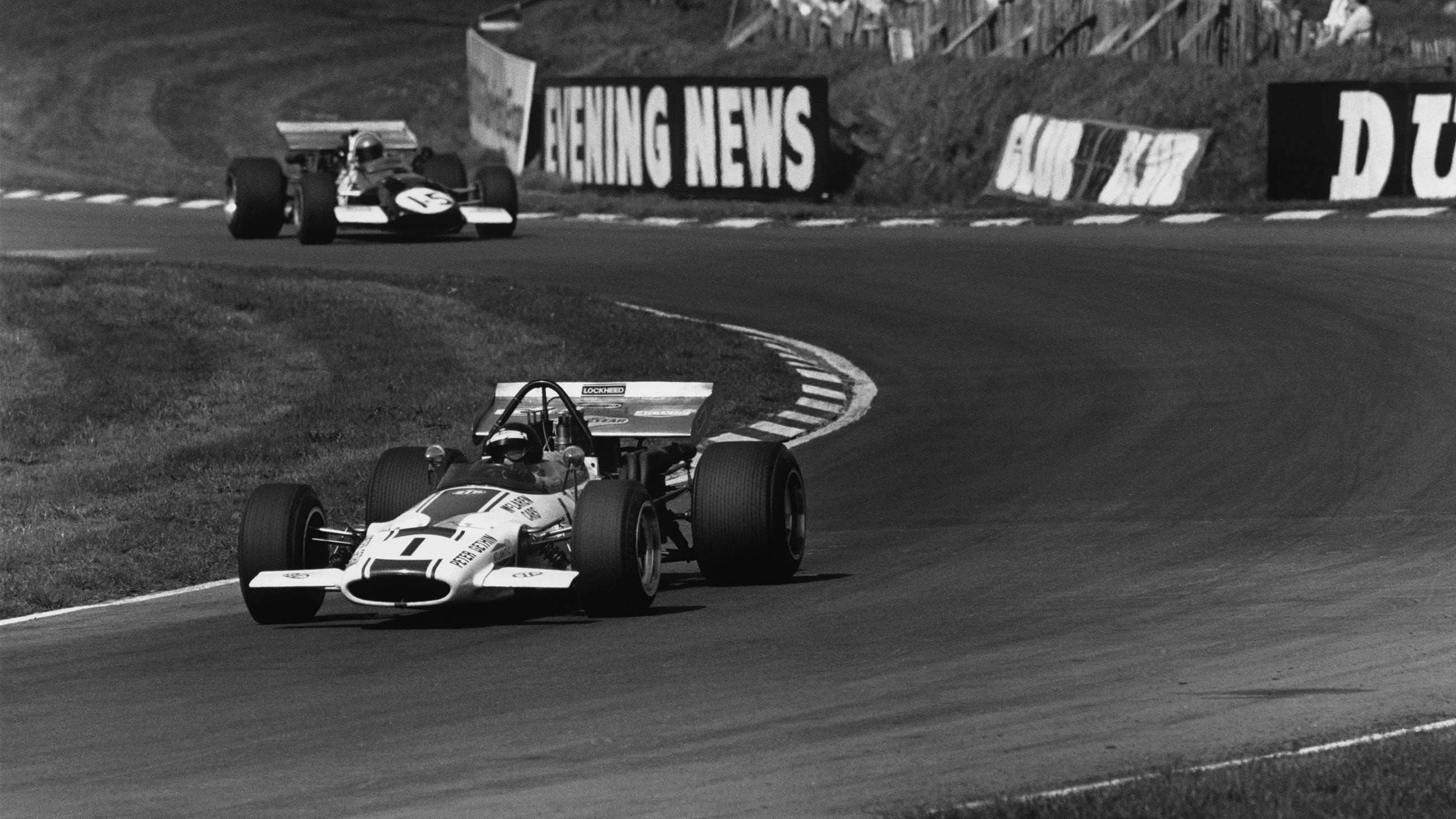 A thunderous line-up of bewinged, 5-litre V8-powered Formula 5000 machines from the 1970s has been confirmed for the daily demonstrations at the 76th Members' Meeting on March 17-18.
To help celebrate the 50th anniversary of the birth of the Formula 5000 category, created as a class within the Sports Car Club of America's Formula A movement in 1968, chassis from all the leading players of the period – in the USA, Europe and the Antipodes – will run around the fast sweeps of the Motor Circuit.
And the international flavour of F5000 will be recreated when British brawn from Lola, McLaren and Surtees is joined by a pair of Begg racers from Christchurch, New Zealand – a country in which the passion for these ground-shaking beasts runs deep.
Scott and Lindsay O'Donnell will make the 12,000-mile trip to Goodwood with FM5 and 018 chassis.
"For me, it completes a mission of restoring and racing this car over the last 15 years to celebrate the 'Kiwi ingenuity' of characters like George Begg," Lindsay O'Donnell said. "Apart from celebrating the tiny Begg marque of race cars in the 50-year demonstration of F5000, it's a great privilege to be invited to take part in a Goodwood event."
Cars built closer to home will bring back special memories for enthusiasts who remember the period drama of the first half of the 1970s, when Lola's T330 and T332, McLaren's M10B and Surtees' TS11 ruled the roost. Among the stand-out cars in the line-up will be the M10B which, under the watchful eye of Sid Taylor Racing, gave the late Peter Gethin his second straight European drivers' title in 1970, his first coming with local squad Church Farm Racing and the earlier M10A in 1969. In fact, it was Gethin's impressive performances in F5000 that helped re-energise his Formula 1 career with BRM for 1971.
One of the stars of mid-1970s F5000, Briton Brian Redman, will be reacquainted with Chevrolet V8 muscle at Goodwood. The Lancastrian won a record 16 US-series races and secured three straight titles in a Lola T332 between 1974 and '76, beating superstars Mario Andretti, Al Unser and Alan Jones in the process, as well as landing eight European Championship victories in McLaren, Chevron and Lola machinery.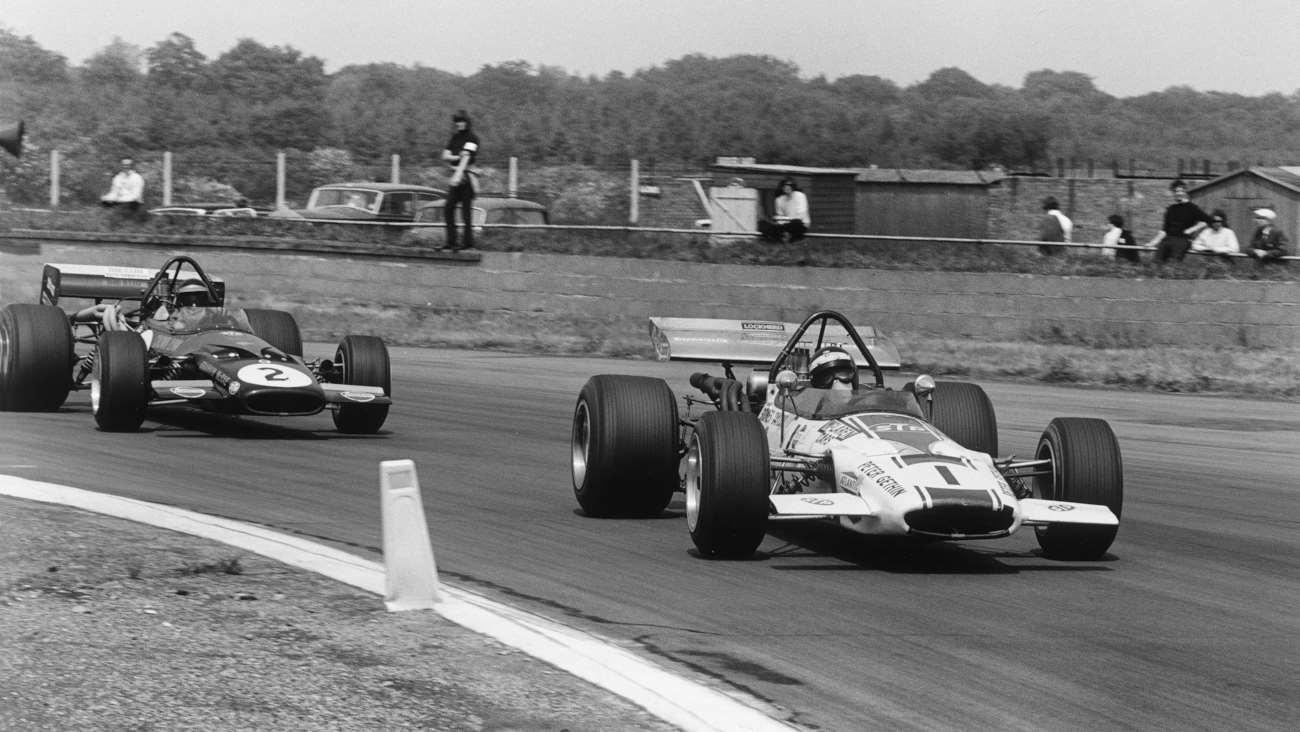 Lotus Elan 26R Le Mans Coupe recreation announced.
Ian Walker Racing has announced plans to build a small run of Lotus Elan 26R Le Mans Coupes for historic racing.
Ian Walker Racing will be building the cars to the same specifications as those designed to compete in the 1964 Le Mans 24 Hours. The company's founder, Ian Walker designed the original 26R coupe in conjunction with Colin Chapman in the early 1960s to take on the Thermal Efficiency Index class.
The car was based on the same chassis as a road-going Elan, but featured unique aluminium bodywork, uprated steering and suspension, and improving engine cooling. IWR's recreations will be hand built using all new components, including alloy bodywork based on 3D scans of an original car's Williams & Pritchard body.
The company intends for the car to be homologated for use in a variety of classic international historic racing events. The exact number of cars to be built will depend upon demand, but IWR expects to make between three and six of the Elan 26R coupes. The cars are set to be sold for somewhere above £200,000 not inclusive of taxes.