Motoring news from around the world: December 2017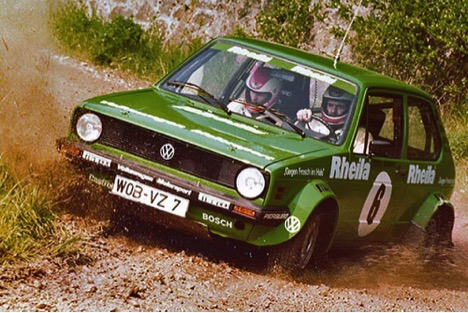 GTI – Born To Be Wild!

The 40th birthday of the Golf GTI this year awakes at least for the old veteran Motorsport fans a lot of great memories. Shortly after its introduction to the market in 1976, the Wolfsburger beast ventured the first attempts on a race-oriented terrain. A good choice, because the Golf GTI sets a new benchmark in terms of the early fame of Volkswagen in the disciplines circuit and rally.

The GTI was hardly launched in 1977, its racing and rallying career directly started on all fronts.


---
Veterans Complete Another Historic London To Brighton Run


More than 400 pioneering veteran cars, their drivers and passengers gathered in Hyde Park on Sunday (5th November) waiting for daybreak to signal the start of the annual Bonhams London to Brighton Veteran Car Run supported by Hiscox.

Acknowledged as the longest running motoring event in the world, it was fitting that the sun rose in a blue sky as participants headed off for a nostalgic drive to the Sussex coast.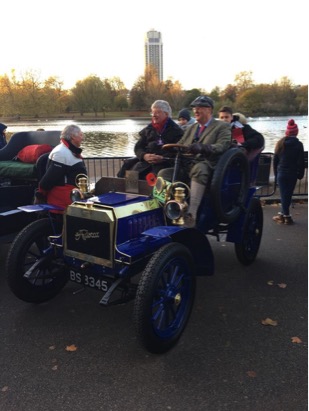 This year the Run featured the largest entry in recent years; staged, as it has been since 1930, by the Royal Automobile Club.

Although a number of cars were diverted following a road traffic accident involving one of the participating vehicles, 315 of the 401 starters made it to Brighton to claim a coveted finishers' medal.
In recent years the Chopard Regularity Trial has introduced an additional interesting element to the Run. This year's winner was Robert Abrey driving a 1899 Daimler who was awarded with a Chopard Mille Miglia Chronograph worth £4,950.

The Run marked the end of the Royal Automobile Club's London Motor Week – a seven-day celebration of motoring, which included an art exhibition, motoring lectures, a motoring forum and a motoring book awards evening.

The penultimate event in the week was the free-to-view Regent Street Motor Show, on Saturday 4thNovember, which turned London's flagship shopping street into a motoring showcase that put the spotlight on veterans and moderns alike and attracted hundreds of thousands of visitors.
This Veteran Car Run marked 121 years since the original Emancipation Run, which was held in 1896 to celebrate the Locomotive on the Highway Act. This raised the speed limit for 'light locomotives' from 4 to 14 mph and abolished the need for a man to walk ahead waving a red flag.
---
Introducing: The FJ Company Signature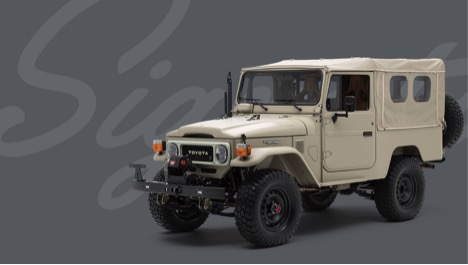 Introducing The FJ Company Signature – their new top-of-the-line model that builds upon the tried and true formula of the past with luxurious materials, custom good looks, and a modern Toyota powertrain. It's a modern take on the classic adventure, built to satisfy the restless spirit within.
As you'd expect from The FJ Company, every Signature build begins with the steel armour of an original Land Cruiser – expertly restored and equipped with the iconic grille and badging that's been part of the Land Cruiser's DNA for decades.

Beneath all of that rugged metal, you'll find an upgrade even the purists will appreciate: A factory-fresh Toyota 1GRE-FE engine equipped with Haltech EFI technology for optimal power and fuel-efficiency.
Only 24 Signature builds are slated for production starting in 2018. Reserve a spot in their production schedule to ensure yours is one of them!


---
Ferrari Dealers nominated Ferrari Classiche Status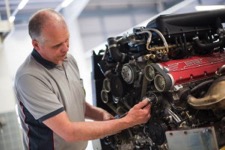 48 official Ferrari Dealers in 20 markets worldwide have been nominated as "Ferrari Classiche Authorised Workshops" – individually known as "Officina" (Italian for workshop) – which authorises the dealer to implement the Ferrari Classiche certification process and ensure the correct maintenance and/or repair of Ferrari cars over 20 years old.

Each Ferrari Classiche Officina will have the direct support of the Ferrari Classiche department at the factory in Maranello, and in return must commit to maintaining a dedicated workshop ramp and a suitably-qualified and trained Ferrari Classiche Service Technician exclusively for Ferrari Classiche maintenance, repair and certification applications.


A Ferrari Classiche Officina offers a highly qualified service to the customer, ensuring the maintenance of the vehicle's value through the start of the Ferrari Classiche Certification process, safeguarding furthermore the technical heritage of the Ferrari brand and, therefore, the client's investment in their Ferrari Classiche car and certification.

Naturally any work on cars that requires the reconstruction of major parts or components – which may be necessary for the purposes of possible issue of the Ferrari Classiche Certification – will be carried out at the Ferrari factory.
The programme will continue to develop in the future with the nomination of more dealers as recognised Ferrari Classiche Authorised Workshops in other markets.


---
On Oct. 6 in Hershey, Pennsylvania, RM Sotheby's went and sold a bathtub-looking 1961 AMC Metropolitan 1500 convertible for $74,250??????????????????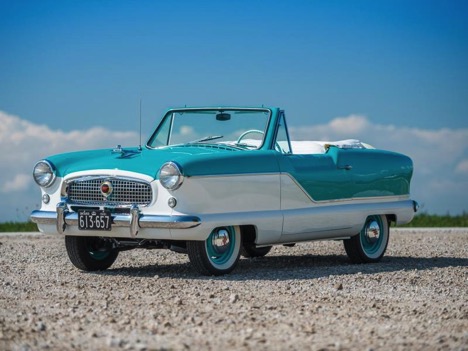 In its brief catalog text (Metropolitans do not get multi-page spreads in auction catalogs), RM claimed the car was freshly restored "to an exhaustive standard of factory correctness," with many new old-stock parts, to the tune of more than $37,000.

The pre-sale estimate, $30,000–$40,000, placed the car right in the middle of the pricing realm for the world's best Metropolitans. But it was not the world's best Metropolitan. In his on-site condition report, auction analyst Rick Carey rated the car as a #2, with "very good paint, chrome, and interior," while noting the "new top fit could be better." He called the result "staggering
Wild results like this aren't unheard of, and they can happen any time two bidders are hell-bent on owning a particular car, no matter what make or model it is.


---
Aston Martin Vanquish Zagato Shooting Brake: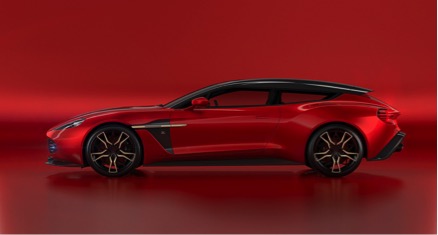 Aston Martin will only produce 99 copies of the supercar, which is equipped by an naturally-aspirated 5,9-liter V-12 engine providing 580-horsepower. The long, upright rear end transforms this 12-cylinder speed machine into a gran turismo with spacious room for luggage. Price $$$$$$$$$$$$$$$$$$???????????????????.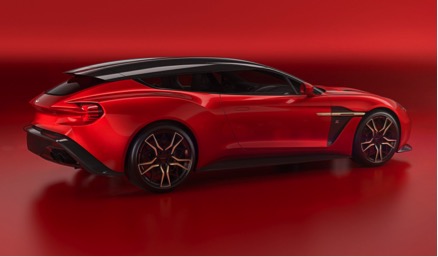 ---
This Alfa Romeo Monza celebrates a forgotten ace.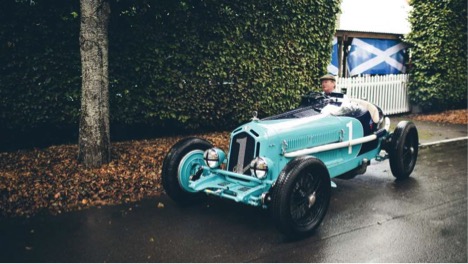 Christopher Mann has owned his Alfa Romeo Monza for ten years, but this week's Revival is its first public appearance in its distinctive two-tone blue colour scheme. "It was a bit of an old nail when I first had it," says Christopher. "It was in dark red and hadn't been rebuilt for years."

When the car had engine trouble at Dijon, it was an excuse to rebuild it. He took the opportunity to create a homage to the remarkable female French racing driver, Hellé Nice.

She raced an Alfa Romeo Monza in these colours, but it was destroyed in a tragic accident in Brazil that cost the lives of six spectators. The car was destroyed but, since nobody has done it before, Christopher decided to build his Monza as a tribute to Nice – and hers must be among the most remarkable of any racing driver.

Born in 1900, she grew up in a tiny French village before moving to Paris at 16, the lively city better suiting her joie de vivre. She found fame as a dancer and model, her nude poses attracting rich and famous lovers, including Philippe de Rothschild. Her own wealth grew to the extent she could afford a yatch. A skiing injury put an end to her dancing career and she found an alternative in motor racing. Finding sponsors didn't prove difficult.

She bought a Bugatti from Ettore Bugatti himself, the car giving her the opportunity to race against men on equal terms. By 1930, she had set the world land speed record for a woman – at a speed no man had achieved – and spend the next year racing in grands prix.

In 1936 she was involved in that fatal accident in Brazil. She swerved to avoid a policeman who was retrieving a hay bale from the road, and careened into the crowd. Because of the circumstances of the accident, public opinion was in her favour. Thrown from the car, her fall was broken by landing on a spectactor. He died, but she survived despite being in a coma for two days. She resumed racing in 1937 until the outbreak of WW2, during which she lived off compensation from the Brazilian government.

Many of her male competitors were jealous of the attention Nice received. Sixty years after racing against her, driver Simone de Forest said of her: "I don't believe she ever thought about anything but sex and showing off."

At a pre-race reception for the 1949 Monte Carlo Rally, in which she was due to compete, Bugatti racer Louis Chiron publically accused her of being a Gestapo agent. Nobody knows why he made the claim, but it was untrue.

But the damage was done. Nobody would offer her a drive. Friends and family shunned her and her fortune was wasted by her lover of the time, who then also abandoned her. She lived the rest of her life poor in a rented flat, supported by a charity that looked after theatre performers who had hit bad times.

She died alone in 1983 having never rebuilt her reputation. Yet her achievements were remarkable, and this Alfa Romeo Monza is a terrific tribute and reminder of a woman who has been unfairly forgotten by motorsport history.
---
Jaguar C-Type XKC007 Offered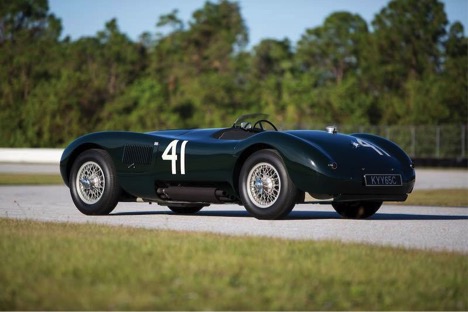 Three factory C-Types debuted at Le Mans in 1951, with one of the cars going on to become the first British car to win the race in nearly two decades. Jaguar reprised the win with a second Le Mans victory two years later, and in the meantime approximately 43 customer cars were built, with XKC 007 being the seventh. Believed to be the first C-Type to reach the U.S., XKC 007 was delivered new to Charles Hornburg's West Coast distributor, and was retained for competition and promotional purposes, most notably at the hands of driver Phil Hill

The C-Type debuted at Elkhart Lake in September 1952, with Phil Hill actually driving the car from California to Wisconsin and back for the race. Hill finished 4th in the main event and won the Sheldon Cup outright — securing the first win by a C-Type on American soil. The Jaguar passed through a string of owners, who also raced the car, before landing with Jeffrey Pattinson of the U.K., who commissioned a full restoration by Jaguar specialist Terry Larson.

XKC 007 was eventually sold to collector Gary Bartlett of Indiana, who retained Chris Keith-Lucas to prepare the car for vintage events, including the 2010 Mille Miglia Storico and the Amelia Island Concours d'Elegance. Under current ownership, the Jaguar has continued to enjoy a life of pampered care and maintenance and is notably documented with a copy of an original factory test report for this chassis, C-Type registry histories, and restoration invoices. The C-Type is estimated to bring $5,500,000 – $7,000,000 at the 2017 RM Sotheby's New York City auction.


---
Paul Newman's Rolex Sets Auction Record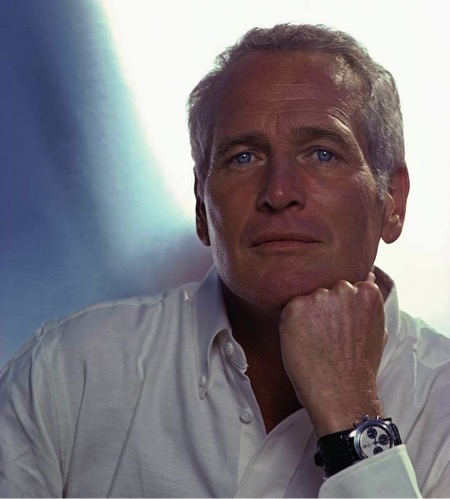 Phillips in association with Bacs & Russo set a new world record for a wristwatch at auction, as the one and only Rolex 'Paul Newman' Cosmograph Daytona owned and worn by Paul Newman sold for $17,752,500.

Phillips' inaugural New York auction — Winning Icons — was staged Thursday, 26 October 2017 at 450 Park Avenue in Manhattan. Following a 12-minute bidding war, Newman's Rolex Daytona sold for to a bidder on the phone in a saleroom of over 700 people. The Rolex the watch that inspired the legendary nickname for the most prestigious versions of the Daytona.